As non-invasive body contouring treatments are becoming more and more advanced, the demand for fat-reduction procedures has increased. In fact, there are more than a dozen noninvasive body treatments available in the market today. With this busy and fast-moving lifestyle, people are prioritizing in-office treatments with minimal downtime over surgical solutions.
Desire drives the market
No body want pain, especially when it comes to beautify ourselves. Believe it or not, but people are scared of surgeries and then its horrifying side-effects. Non-invasive body contouring treatments are gaining popularity nowadays that people can have an appealing body so easily without any painful surgeries. These technologies are getting better and better at finding easier ways to get you back in shape without hurting you an ounce!
Let's Clear the doubts on non-invasive body contouring procedures
When to go for non-invasive treatments?
Non-invasive treatments are appropriate for excess fat removal. They serves to be best alternate for weight-loss surgeries. These treatments can also be used after surgeries on sagging muscles.
Are non-surgical treatments painful?
Non-invasive procedures do not penetrate the skin and hence are completely pain-less. On occasion, mild redness may be observed on the sensitive skin only for few minutes.
Where non-invasive treatments are not effective?
Patients with unrealistic expectations and lack of patience regarding the outcome fails the effectiveness of non-invasive treatments. People who take this treatment as a substitute for proper diet and exercise will also not receive desired results. Patients with pacemakers, defibrillators or aneurysms are not eligible for this treatment.
What can I expect after non invasive body contouring treatments?
Visible decrease in fat bulges in two to four months.
Removal of excess fat
Minimal recovery time
Patients can resume their normal activities the same day.
Multiple treatment sessions.
Ultra MedStim – A true Non Invasive Body Contouring Treatment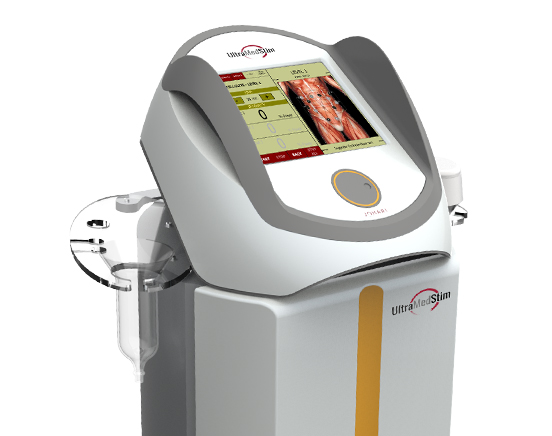 The device is designed in such a way that it simultaneously uses combination of medium frequencies like – Ultrasound, Cavitation Therapy, Vacuum, Deep heat, Anti-Aging and Cranial Electrotherapy (CES). It uses bio-stimulation and sub-dermal therapy to remove unwanted cellulite efficiently and painlessly. The device also uses micro-current that improves facial skin health. It is a multi-treatment device that adds value to your wellness centres, spas, slimming centres, skin clinics, hospitals, obesity clinics – whichever your profession possess.