Delivering US FDA 510k approved
Electrostimulation devices

Physiotherapy

Pain
Management

Aesthetics
Get your own Ready-to-market Electrostimulation device at record speed
with high quality and optimized cost
US FDA Cleared Multidisciplinary Electrotherapy Devices
Winstim – Combination Therapy
Electro Stimulation and Ultrasound
Winstim is 4/2 channel electro-therapy and 1 &3 MHz ultrasound combination device providing 4 pole and 2 pole interferential treatment along with other electrical stimulation waveforms. Therapeutic voltage and current waveforms are applied to a wide range of conditions with successful outcomes. These include acute pain, subacute pain, traumatic pain, inflammatory conditions and chronic rheumatoid arthritis.
8″ Colour LCD touch screen displays
Treat and monitor multiple patients at the Same time
16 Preset treatment protocols
Conditions library & electrode placement guide
HiLipo Contour
For Muscle Conditioning
Hilipo Contour uses bio-electrical stimulation to strengthen and tone the muscles and promote endurance. The device mimics the body's natural bio-electricity to work out muscles in a much safer and effective manner than a traditional workout. Hilipo Contour's pre-set protocols of EMS penetrate the deep-rooted muscular structure of the body, bringing definition and core muscle strength to targeted areas.
7" large Full color LCD touch screen interface
4 Independent Output to treat multiple area
Three Preset Programs – Sculpt, Tone and Power
3D Penetration, – 100% Vector Modulation
Analgesic Pulser – AP439 Plus
Next Generation Multi waveform stimulator
The revolutionary AP439 is a futuristic US FDA 510K approved multi waveform (Interferential, TENS, Galvanic, Russian, High Voltage, Faradic) device presenting maximum applications of pain relief in a single unit
4 Pole & 2 Pole IFC with 100% vector modulation
5 essential electrotherapy currents
8 quick preset treatment programs for common conditions
Illuminating touch buttons and LCD display
Slim, compact, portable and light weight enclosure
Stim3
Portable Electrotherapy for Home Visits
The Stim3 device has four channels offering multiple treatments in a single unit. The portable pain-relieving tool is one of the most popular and successful devices for physical therapy. The device ergonomics enables comfortable use for home care professionals.
True Sinewave IFT with four pole application
Independent 4 channels
Vector effect (100% modulation of amplitude)
Digital LCD
Powered by both battery and adapter
Customization For Your Private Label Products
We also provide customization across Enclosures, GUI, Model type, Aesthetics and Packaging. Our expertise across various verticals makes our portfolio versatile to cater to multiple segments for private labeling.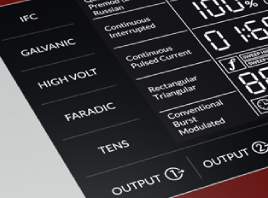 Technology
Application-based modalities:
TENS, IFC, High Voltage,
Russian, Galvanic, Faradic,
Cranial Electrical Stimulation etc.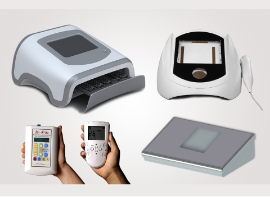 Enclosures
Plastic – Sheet Metal
Casting
Thermo forming
Aluminium Extrusion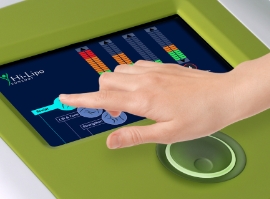 UX/ UI
Touch Screen – GUI
Capacitive Touch Button
MKB Panels
LCD and Buttons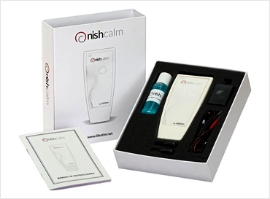 Packaging & Branding
Customize Packaging
Logo Printing
Labeling