Gone are the days when people used to say – "Let the buyer beware". Now is the era of saying – "Let the seller beware". Indeed a true statement. If you are not aware about the need of your loyal customers, someone else will know them. Not just a statement but a universal principle applied even to doctors, clinics & hospitals.
Johari Digital, a brand that is just not known for its products but also brings customer delight & today on this 'National Get to Know Your Customer Day', we are proud to acclaim that yes "WE KNOW YOU ALL"!!
Well, simply knowing is not enough, we also want to understand you in a better way. For a successful customer relationship, we want to understand your needs, listen to your concerns, provide you personalized support and satisfy you with our best services. It would be our pleasure to get in touch with you personally. You may reach us via:
Personalised Assistance
WhatsApp: +91 91161 36531
We would also love to connect with you Socially!!
Please click here to follow us on these social platforms. Your feedback and personal reviews are welcome here:-
Personalized devices for your personalized needs
It takes years to build trust & we are proud that yes we have built this bond so strongly with our range of best devices like AP-439 & Physio Kit. AP-439 is the most desired device in Hospitals and clinics, while Physio Kit, on the other hand, is the most favorite and top notch choice of Physiotherapists for their home visits. Both devices are safe, non-invasive and US FDA cleared.
Multi-Waveform Stimulator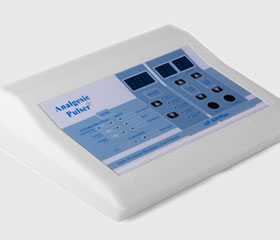 Combo Backpack For Home Visits