Celebrating 40 Years of Global Presence
Johari Digital celebrated its illustrious 40th anniversary at Jodhpur, Rajasthan. With its thriving and evolving innovations in the industry of Medical Device Manufacturing, Johari Digital has marked its 40-whole years of Manufacturing excellence & global presence. This era of 4 decades with persistent hard work has made Johari Digital as the most trusted partner in the industry.
This day is celebrated every year with enthusiasm to appreciate the continuous and dedicated efforts put in by each and every employee to make Johari Digital what it is today. Every member of Johari Digital was invited and felt special in this Annual Meet.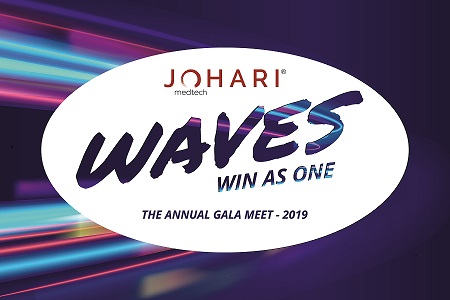 Every year, this day has been celebrated with a unique theme. The theme for this year was – "Waves – Win As One". This means that we, Johari Digital with more than 150 members, are spread all across India, USA & Europe and yet we live, work and win as one.. like a Wave! The two connecting points of "Johari Digital Waves" are– Mr. & Ms. Satyendra Johari, The 2 legends of the company.
The event was full of fun and excitement. It was surprising to get to know that we have many artistic and talented people within the company. Some of them were amazing dancers while some of them were great singers. Some were expert in mimicry while some played such soothing guitar that everybody loved. With such energetic environment, our leaders also appreciated us for our annual performance and motivated us for the upcoming year.
A Journey of 40 Years…
When we look out at the vast modern facility of the Johari Digital Healthcare Ltd headquarters today, it is hard to imagine that the company began in a workshop. In those days there was no such product line offered by the Indian Medical Industry. From our humble beginnings of Mr. Satyendra Johari in a 500 sqft garage workshop to a 45,000 sqft Sate-of-the art manufacturing facility, Johari Digital Healthcare has created a  tradition of bringing the most innovative concepts in medical devices to fruition.
In our expansion to OEM, Contract Manufacturing and Private Labeling, soon we became the largest manufacturer of electronic medical devices for physiotherapy, pain management, stress relief, medical aesthetics and wellness with international accreditation. These 40 years of experience in Design and Engineering & Life Science technologies has given Johari Digital an expertise which is trusted globally.
Life Inside Johari Digital
We are the family members of Johari Digital Healthcare Ltd. We live together, work together and help our family to achieve greater heights of success. To work in such supportive and positive work environment is a true satisfaction and accomplishment in its own.
Here are some of the insights of this year's Annual Bash!