Medical Device Development is a multilevel process. Each step needs strict monitoring and documentation.
But why document everything? Is it just because Medical Devices deal with human lives?
Yes, it is!
Not only it is a necessary practice for end-user's safety but also equally necessary for the developer & manufacturer. FDA, the supreme authority auditing and approving a device for market release demands all steps and processes to be documented from scratch.
Although, there are many crucial documentation requirements such as DMR (Device Master Record), DHR (Device History Record) & DHF (Design History File).
Here we keep our focus only on DHF, Design History File.
What is a Design History File (DHF)?
A design history file is a set of organized documents that clearly outline the evolution of the design from the initial stage to the final stage. The core purpose of the Design History File is to outline all the steps involved in the development of the Medical device. It acts as a reference for the fact that the device was developed according to the initially agreed Medical Device Development plan. It also ensures that all regulatory guidelines have been kept in consideration while developing the product.
FDA Guidelines on Design History File
According to the FDA 21 CFR 820.30 Design History File is a set of consolidated documents for evaluating the processes involved in the manufacturing of a medical device. The device must meet the agreed-upon manufacturing plan and meet the regulatory requirements.
Also, FDA clearly states that DHF is required for every type of medical device a company manufactures. It may or may not be available for every similar device.
ISO 13485:2016 guidelines on Design History File
The guidelines by FDA and ISO:13485 are almost similar. According to ISO 13485:2016 7.3.10, "Design and development files" of the ISO 13485:2016 must contain all the documents and records to assure conformance with the regulatory requirements.
The Main Components of the Design History File in a Medical Device Development & Manufacturing Organization
All steps involved in the Design Controls are clearly outlined in the Design History File.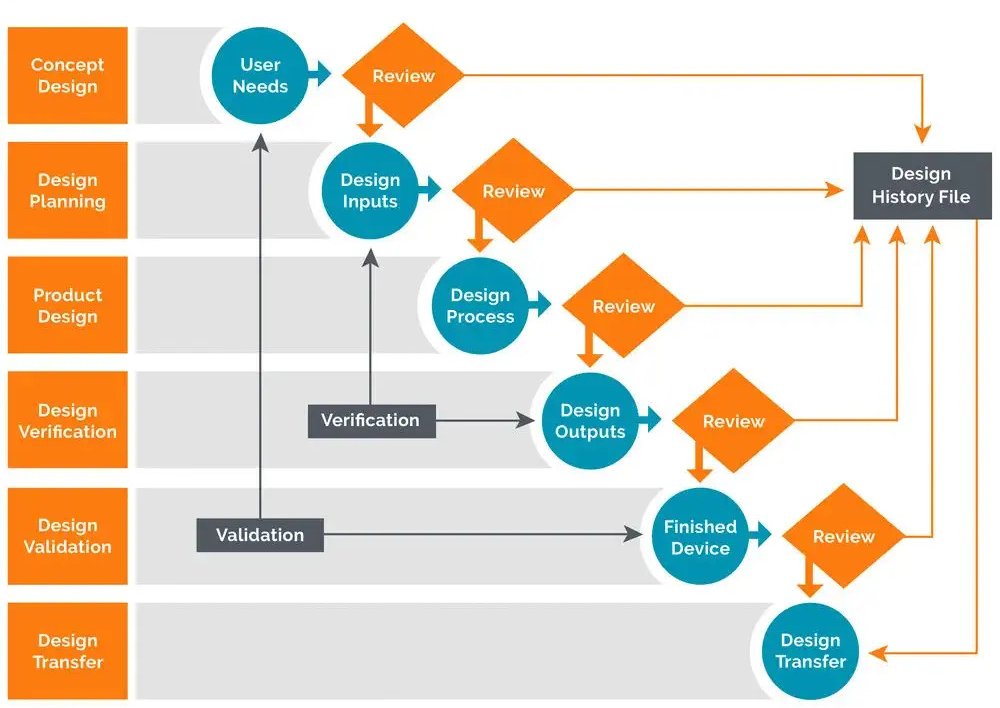 Design & Development Planning
This section comprises timelines, budgets, responsibilities, and more.
Design Inputs
This section comprises all user requirements, and physical & performance requirements.
Design outputs
The engineering analysis, models, and drawings show how the device will eventually work.
Design Review
A formal review of the agreed design by all necessary stakeholders.
Design Validation
A form of a report that individually ensures that design specification fulfills the user's requirement planned at the beginning of the project.
Design Transfer
This document clearly states the stages of production, distribution, and maintenance of the device.
Design Modifications
Any changes made during the Device Development Process are recorded under this category.
Johari Digital Healthcare Ltd.'s best practices for an organized DHF (Design History File)
Begin Early
Do not wait till you've started developing the device post proto stage. Start before the design stage and then proceed as required. Include initial sketches and all details you feel are important for FDA to approve your device.
Do not include Jargon
In case you're a startup, you may not know what to document and what to leave. It's good to sign up with an experienced contract manufacturing organization. Such organizations help you to scale and also guide you with technical documentation for the smooth Go-To-Market of your Medical Device.
Keep everything traceable
Do not miss the iterations and change documentation [ECR]. When you document every input and output flow it will be easier for regulators to trace the final output.
This is also important to make other documents. When your initial documentation is in place, it's easier to formulate other documents.
Don't rely on outdated methods of documentation
To ensure compliance and traceability an organization must use advanced tools for documentation. The pen-paper approach surely needs a more competitive replacement.
Align with JDHL for accelerated Go-To-Market of your Medical Devices
Johari Digital Healthcare Ltd. with 40+ years in the industry holds experience across diverse segments of healthcare. The key segments across which our services lie include Life Sciences, Lab Research tools, Diagnostics, IVDs, Wearables, and so on.
Reach out to us for Medical Device Manufacturing Requirements.