During the COVID-19 lockdowns, the necessity for remote health consultation and checkups led to the significant rise of the healthcare segment called "Telehealth" offering accessible healthcare within the comfort of the user's home. Incorporating AI, ML along with cloud-based reporting has empowered the patients and healthcare providers to fast pace the diagnosis and treatment cycle.
As a Medical Device Manufacturer, we are continually evolving capabilities to serve our clients the best products with minimal software glitches and maximum functionality relevant to the end-user.
Here we discuss different aspects of medical device software development that enable advanced functionality in modern POC devices, wearable devices, and Clinical AI-based monitoring devices.
Key Software development concerns of MedTech Companies
Changing technology dynamics of the medical industry has created a major influence on Medical Device Software Design development. Some key areas that MedTech clients are most concerned about are:
Internet of Things
Service-oriented Architecture
Data Analytics
UX Design & Development
Testing (Automated and Manual)
The sophisticated technologies aggressively promote connected healthcare but they expose a greater vulnerability too. With tremendous competition and safety at stake medical device software development is a highly regulated process. A comprehensive evaluation of your manufacturer across key parameters is essential while outsourcing your software-driven medical device product to avoid delays and flaws.
Areas of challenges in Medical Device Software Development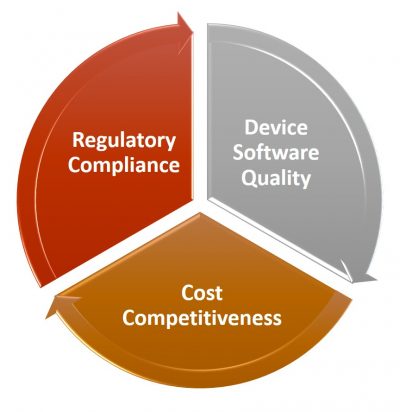 Regulatory Compliance
Management of documentation and records
Traceability and identification
Control of the documentation and change management
Minimizing recalls
Device Software & Quality
Extreme variance and product classification has increased the risk of failure
The remote access and data sharing over the networks have made things complicated in terms of cybersecurity and authorization
Increased consequences of a product recall
Cost Competitiveness
Increased competition and dynamic technological change have made prices competitive and the market volatile.
Growing volume of software & product variant puts quality at risk 
The complexity of the software products and product lines comes with the risk of being reused and fabricated. The advanced technology used in medical devices has an increased risk of cybersecurity. Complexity and fast rate of change of software in the medical devices have come up with the requirement to modify the capabilities in terms of designing and securing user's interest.
The new age implantable medical devices, SaMD (Software as a Medical Device), and various other parts come with inherent risks of data leakage, unauthorized access, and hacking. The ingestible monitoring pills, pacemakers with sensors, and embedded devices put patients' safety at risk. The manufacturers and regulatory bodies have to be critical about making firmware updates to enhance safety and security in software-based medical devices.
Cracking Medical Device Software Development (as per FDA guidelines)
Mere one-time development of the Medical Device software doesn't mean that the task is done. Manufacturers have to be on their toes to get the software in sync with the increasing pace of the dynamic market.  
Food and drug administration (FDA) 21 CFR Part 11 & Part 820
FDA outlines some major guidelines that every software designer and medical device manufacturer must keep in mind while developing novice devices. The 21 CFR Part 11, Electronic records and signatures, and 21 CFR Part 820 Quality system regulations give clearly outlined guidelines to be followed while developing a medical device.  

Some of the major requirements of the FDA are as follows:   
1. Valid Clinical Evaluation: The scientific validity of the application needs to be justified with an appropriate area where it is to be used.  
2. Analytical Validation: The developers are required to provide "objective evidence" of the sound software development. The analytical validation of the software development ensures safety, effectiveness, and performance.  
3. Clinical Validation: Once the software has been developed, it's tested for its intended application in the real world.  
4. Documentation: FDA clearly outlines several key documents that are necessary for approval and market entry of a software-centric device.  
The documents include: 
Concern Statement
Software Description
Device hazard analysis
Software design specifications

 

Verification & Validation Document

 

Revision level documentation

 

Document reporting unresolved bugs and defects
5. Keeping eye on Regulatory before coding:  Often developers are concerned about regulatory requirements of the software after the product has been developed. This creates unnecessary looping of the processes. To avoid unnecessary delays careful eye must be kept from day one before the programming has started.
 At Johari Digital Healthcare we understand the growing concerns of the global MedTech industry. Our team of experts keeps security and advancement in sync to deliver innovative MedTech solutions. Keeping pace with the analytical data we are skilled at collaborating with isolated systems to deliver effective outcomes. Our automated UI-based testing, performance testing, and API testing give our clients a seamless manufacturing experience and substantial ROI.